Second Chance was set up in 2001 to address the urgent issue of women's homelessness.
The Second Chance Fund Raising Group (ABN 84 194 825 242) is an Incorporated Association. The committee is a Public Benevolent Institution and is registered with the Australian Charities and Not For Profit Commission (ACNC).
Second Chance received endorsement by the Australian Taxation Office as a deductible gift recipient, as well as endorsement for charity tax concessions.
We are independent and receive no government funding.
Committee members bring their diverse experience, knowledge and passion to change the lives of other women and children.
OUR PATRON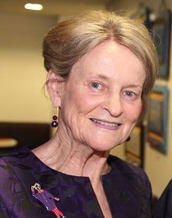 Dr Dale Spender, AM FRSA – Patron & Co-Founder
An Australian feminist scholar, educator and activist, Dale has a background in writing, public speaking, broadcasting and academic consulting. A former chair of the Copyright Agency Limited and former deputy chair of the State Library of Queensland, she co-founded Second Chance.
THE COMMITTEE
Marjorie Morton – Co-Founder & Treasurer
Marjorie Morton has been the treasurer since Second Chance became an incorporated body. Trained originally as a radiation therapist, she founded a food brokerage business which has morphed into a national company. She co-founded Second Chance.

Kathleen Noonan – President
Kathleen Noonan is a Brisbane-based journalist and columnist, who has reported in South Africa, the UK and Australia over three decades. Her weekly column and reporting appeared in newspapers throughout Australia for 16 years. She has a long-standing interest in what makes society fair.

Zara Sexton – Vice President
Zara Sexton has been involved with Second Chance since its inception. She works in professional services marketing.

Amanda Schiavo – Secretary
Amanda is a dedicated teacher, mother of three, and advocate for women's rights. With a teaching career spanning different educational systems over 20 years, she believes education is a critical tool in creating awareness of social justice issues and the needs of the marginalised. As Head of Department of English and Humanities over the past 8 years, she's passionate about boosting the literacy skills of students. Amanda is a member of the senior leadership team in the Edmund Rice Flexi-schools network, working with young people who have experienced trauma. She is currently studying a Masters of Educational Leadership.
Alison Kubler
Alison Kubler is a writer and Editor of VAULT, a journal of art and culture. She is a Board Member of the National Gallery of Australia.
Michael Dickson
Michael is an architect and academic exploring ways that we can make our built environments more open, connective, and joyful. He is also interested in the notion of design as a social process that has the capacity to provide uplift and learning whilst delivering thoughtful outcomes for end users.