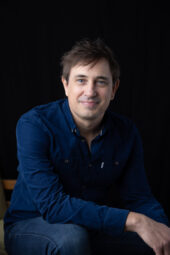 WEDNESDAY 4 OCTOBER 2023
SOUTH BANK PIAZZA – SOUTH BANK PARKLANDS

6pm for a 7pm start | 90 mins
Join us for the launch of Trent Dalton's new novel Lola In The Mirror. Trent Dalton will be in conversation with Kathleen Noonan and the evening will feature performances from surprise musicians.

*$20 of every ticket sold will go directly to SECOND CHANCE PROGRAMME in support of homeless women*
Every ticket will include one signed copy of Lola in the Mirror
Thank you to our sponsors McCullough Robertson Lawyers and BVN Architecture Studio 
ABOUT THE BOOK
Bighearted, gritty, magical and moving, Lola in the Mirror is the irresistible new novel from international bestselling author of Boy Swallows Universe, All Our Shimmering Skies and Love Stories.
A girl and her mother have been on the run for sixteen years, from police and the monster they left in their kitchen with a knife in his throat. They've found themselves a home inside a van with four flat tyres parked in a scrapyard by the edge of the Brisbane River.
The girl has no name because names are dangerous when you're on the run. But the girl has a dream. A vision of a life as an artist of international acclaim. A life outside the grip of the Brisbane underworld drug queen 'Lady' Flora Box. A life of love with the boy who's waiting for her on the bridge that stretches across a flooding, deadly river. A life beyond the bullet that has her name on it. And now that the storm clouds are rising, there's only one person who can help make her dreams come true.
That person is Lola and she carries all the answers. But to find Lola, the girl with no name must first do one of the hardest things we can ever do. She must look in the mirror.
ABOUT THE AUTHOR
Trent Dalton is the international best
selling author of Boy Swallows Universe – which broke records to become the fastest selling Australian debut novel ever – as well as All Our Shimmering Skies and Love Stories.